Actividades

Cultural

Some very interesting cultural excursions are quite manageable because of the proximity of villages, towns and cities such as Bilbao or Vitoria-Gasteiz:

- Prehistoric era: Dolmens of Añes and Orduña, stone wolf lodges of Angulo and Santiago Mountain, etc.

- Roman era: The archaeological remains of Iruña Veleia

- The Middle ages: The collection of buildings at Quejana, the fortified Gothic church of Orduña, the cathedrals Santa Mª of Vitoria-Gasteiz, the cathedrals of Burgos, the fortress/palace of Medina de Pomar, etc.

- Modern era: The Guggenheim Museum in Bilbao, the Artium Gallery in Vitoria, etc.
In addition, we recommend visits to the villages of the surrounding regions – the district of Las Merindades (Burgos) and the Ayala Valley (Alava) - to discover the ways of life, the customs and the history of this enclave, by way of its streets, palaces, festivities and its exquisite food.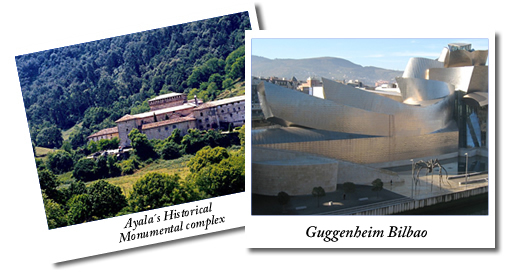 Outdoors

The setting of Las Casas de la Cascada (The Waterfall Houses) offers a multiplicity of possible outdoor activities:

- Mountain hikes: Numerous routes of various distance and difficulty, suitable for all the family.

- Cycling: Almost all the trails and paths that run through the forests and fields are suitable for mountain bikes.

- Bird-watching: It's the richest area in the whole of the Iberian Peninsula for the observation of nesting birds, particularly for birds of prey and forest birds.

- Paragliding and delta wings: The flying zone of Orduña, with a launch from 600m., is an excellent free flying zone.

- Cave exploration: More than 300 caves nearby, some of them among the deepest in the world.